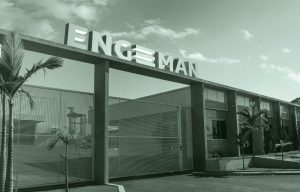 Founded in 2003, Engeman stands out in the manufacturing industry as a benchmark company for the production of Fire Tube, Biomass and Water Tube Boilers.
Our company is proud to be a leader in designing Boilers and Heat Exchangers for drying grains, as well as Seed Driers.
Engeman is present throughout the Brazilian territory, and has 15 projects carried out in 9 countries in Latin America, Asia and Africa.
We also work the Plant Construction and Production of Electricity using Biomass (Thermal Power Plants, or UTEs in Brazil), in several business segments, like: Agribusiness, Manufacturing, Energy, Steelmilling, Mining, Oil & Gas, and so forth.
Thermal Energy Solutions.
Produce Thermal Energy by developing the best technological solution and optimizing productivity and sustainability for our customers.
We are always trying to be a benchmark company in our business segment.
Engeman views the community in an encompassing way, and we understand the importance of supporting and developing the society we work in. Our activities are based on fundamental values of ethics, transparency and respect for the environment.
Among the several causes supported by Engeman, we provide support to sports, children and the elderly development by means of the Engeman Tennis Cup and the Senior Citizen Olympics.
QUALITY, SAFETY, ENVIRONMENT & HEALTH
Based on a global outlook, Engeman has a widespread notion of business sustainability, and we are always looking to strike a balance between the economic, social and environmental areas. That sustainability is achieved by means of QSMS/CRS policies, by having a commitment to our stakeholders, and by ensuring the expectations and needs of all parties involved in the process are met.
The deployment and upkeeping of the QSMS/CRS policy is made by means of our Integrated Management System (IMS), which ensures the quality of our services, while having them comply with the regulatory standards of the Brazilian Ministry of Labor and bodies acknowledged on an international level.